If you have made the decision to set up your own farm business, then one of the first things you need to arrange and account for is the machinery you will need for the successful running of the farm, dependent upon the precise type of farming you will be undertaking.
Getting machinery for a farm business is not cheap and it is widely estimated that new farm equipment sales in the UK were worth around £1.75 billion in 2017 alone (Agricultural Engineers Association). With these figures in mind, it is important to be mindful of some of the typically required equipment you will need for your farm to be successful. Whether you buy, rent or lease the machinery you need and no matter whether you purchase machinery new or second-hand, you will always need to consider a number of important factors.
Farm Equipment Health and Safety
Prior to buying agricultural machinery, you should make it a priority to check the health and safety requirements. For example, you should check for any defects (including things such as damaged power cords or missing buttons). Specialised machinery may require you to undergo specialist training beforehand in order to use the equipment safely, so research thoroughly prior to purchasing.
You should also make sure that any new machinery you buy has been CE marked (as per the Health and Safety at Work legislation). This certifies that it meets essential safety standards.
Key Agricultural Machinery
No two farm businesses are the same and different farms will require very different types of machinery. For example, if you deal with the potential of raging bulls on your farm, you will require cattle crush equipment to keep everything safe; if you have pigs and poultry, you will need straw spreading machinery. It is very important to understand your needs before you explore the various forms of machinery available.
Hay Balers
A hay baler helps to keep the hay in a round or square shape, which is very practical when it comes to storing and protecting the hay you rely on for your farm and its animals. Hay balers can cost between £1,000 and £4,000 in total if you buy it second hand. We also have a range of Altec straw spreading machinery and a wide range of hay baling equipment for farms.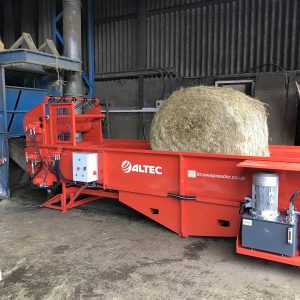 Tractors for Farms
Of course, you are going to need a tractor or even multiple tractors to be able to run your farm efficiently and effectively, and tractor sales (including tractor parts and accessories) make up almost half of all equipment costs for farmers, according to the AEA.
There are a number of different variables you will need to consider when it comes to choosing a tractor, and this means that prices vary considerably accordingly:
How big is the area of land that you are purchasing?
The type of crops you have
How big does the tractor need to be?
What tractor implements will you need?
A low-cost, used tractor can cost  around £3,000 to £10,000. If you are looking for a cheaper alternative, and you will be running a small farm business then you could look at buying a pickup truck, which could be a considerably less expensive option. It can also be used for attaching a trailer to it for livestock transportation.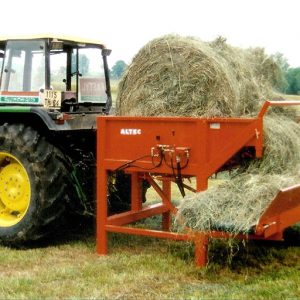 Planting Machines
This type of machinery is commonly known as 'seeders.' They help to get the seeds into the soil using various methods: some spread it on a belt, whilst others use a tub.
A used seeder will typically cost anywhere between £1,000 and £5,000. If you decide to buy a used seeder, always check inside the machine for wear and tear. After all, as a large investment and an expensive machine, you don't want to end up with a seeder that you cannot actually use for your business due to excessive wear and tear or damage.
Harvesting Machines
You will find that harvesting machines are very often used on an ad-hoc basis and used on a seasonal basis only, or however often the crops in question will grow. Given that they are used on an irregular basis on the average farm, it may be worthwhile for your business and its finances to either rent or purchase a harvester second hand.
However, even buying a harvesting machine second-hand, such as in the case of a combine harvester, is not cheap. These very powerful machines can cost around £3,000 and more and may even in some cases be as much as £100,000 to purchase.
Soil Cultivation Machines
Soil cultivation machines are farm equipment which work the soil such as ploughs, with the exact machine that you end up using depending on the type, quality and exact nature of the soil present on your farm. This can also vary across the many acres of land that you may have too. Because soil quality and type can vary to such a great extent, it is likely that you may need more than one plough. As a business, this therefore may well make renting the best option as a business decision when it comes to this kind of machinery.
Purchased second-hand, a soil cultivation machine can range between £1,000 and £30,000 in total.
Irrigation Machines
You will need an irrigation machine in order to both water and drain your fields. To find the correct type of irrigation machinery for your farm, you will need to make a proper assessment as to how much will need to be drained from the land. Prices can vary with this kind of machinery, as it is often possible to buy them in parts as well as whole units.