Square Bale Distribution
Axial straw spreader
All the advantages of dust-free straw spreading … over width of 5-6 m (8 m as option).
Dust free without any stone ejections means safety for users and livestock.
The principle : the separating rollers with their retractable fingers pull the straw (compacted by press action) and restore its full volume before it is spread out by the discs.
Better than by hand : The work is even, the litter ventilated and loose, it lasts longer, with key savings of straw, etc.
Lateral straw spreader
Flexible straw spreading with ejection to the side, over width 5-8 m.
The straw, after recovering its volume on the separating rollers, is ejected with flexible fingers.
With no excessive dust or any ejection of stones, the litter is prepared gently with minimum power requirement.
Altec DT125S
Bale sizes up to up to 120 x 120 x 250 cm
Electric flow rate controller for advance control
Central support for round bales
Front support for bales of 1.20 m
Adjustable stop located by the top separating roller
Hood to rear of rollers
Altec DT125R
Bale size up to 120 x 120 x 250 cm
Electric flow rate controller for advance control
Central support for round bales
Front support for bales of 1.20 m
Adjustable stop located by the top separating roller
Hood to rear of rollers
Lighting
2 wheels Ø800 + hinged draw bar ( right draw bar to request )
Tyres: 7.5 x 16
Altec DT125T
Bales up to 120 x 120 x 250 cm
Crosswise belt length : 2.30 m
Electric flow rate controller for advance control
Central support for round bales
Front support for bales of 1.20 m
Adjustable stop located by the top separating roller
Hood to rear of rollers
Altec DT125TR
Bales up to 120 x 120 x 250 cm
Crosswise belt length : 2.30 m
Electric flow rate controller for advance control
Central support for round bales
Front support for bales of 1.20 m
Adjustable stop located by the top separating roller
Hood to rear of rollers
Lighting
2 wheels Ø800 + hinged draw bar ( right draw bar to request )
Tyres: 7.5 x 16
Altec DT125 Axial Pick'n'Go
Bale size up to 120 x 120 x 250 cm
Disc straw spreading system over 5-6 m width
Automatic linkage
Electric flow rate controller for advance control
Central support and front support
Adjustable stop located by the top separating roller
Hood to rear of rollers
Manual sliding discs
Altec DT125R Axial - low poultry special
Bale size up to 120 x 120 x 250 cm
Disc straw spreading system over 5-6 m width
Low machine
Max height 2.10 m
Electric flow rate controller for advance control
Central support
Front support
Adjustable stop located by the top separating roller
Hood to rear of rollers
Lighting
2 wheels Ø800 + hinged draw bar (right draw bar on request)
Tyres: 7.6×16 farm profile
Wheel guards
Altec DT125 axial
Bales up to 120 x 120 x 250 cm
Disc straw spreading system over 5-6 m width
Electric flow rate controller for advance control
Central support
Front support
Adjustable stop located by the top separating roller
Hood to rear of rollers
Altec DT125R axial
Bales up to 120 x 120 x 250 cm
Disc straw spreading system over 5-6 m width
Electric flow rate controller for advance control
Central support
Front support
Adjustable stop located by the top separating roller
Hood to rear of rollers
Lighting
2 wheels Ø800 + hinged draw bar (right draw bar on request)
Tyres: 7.6×16 farm profile
Altec DT125 lateral
Bales up to 120 x 120 x 250 cm
Finger straw spreading system with crosswise belt
Electric flow rate controller for advance control
Central support
Front support
Adjustable stop located by the top separating roller
Hood to rear of rollers
Altec DT125R lateral
Bales up to 120 x 120 x 250 cm
Finger straw spreading system with crosswise belt
Electric flow rate controller for advance control
Central support
Front support
Adjustable stop located by the top separating roller
Hood to rear of rollers
Lighting
2 wheels Ø800 + hinged draw bar (right draw bar on request)
Tyres: 7.6×16 farm profile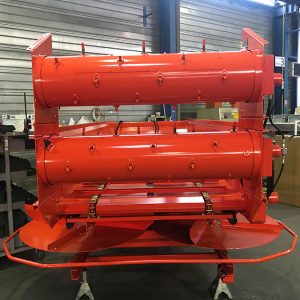 Why Choose Straw Spreader