Simple Ways to Save Money on Straw
Due to a long winter at the start of 2018, straw prices in the United Kingdom are now at an all-time high. The BBC reported that as of February 2018, the average barley straw price in England and Wales was £90 a tonne, 73% from a year earlier, while wheat straw was £81 a tonne, up 62%.
As a result, many farmers predict extra costs in the thousands and overall losses for the year. The high prices of straw mean that farmers are now in a difficult situation; save money on straw, or face high losses. Fortunately, there are various easy ways in in which you can to save money on straw which utilised properly, could save your business and your farm many thousands of Pounds per year.
Protect Your Straw Supplies
The easiest way to save money on straw is to protect the supplies that you already have. Damp is one of the most common ways that farmers lose straw, since just 15cm of damp affecting the outside of a round bale can result in a 35% loss in total volume.
However, solving this potential issue does have a fairly simple and straightforward solution; cover up your straw and hay bales and protect them from the elements. Taking simple steps to maintain the integrity of your existing straw supplies can reduce straw volume losses, and save you thousands of Pounds.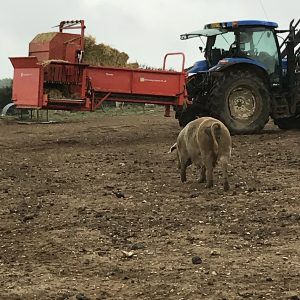 Also important to remember, is that is isn't just the wet and icy weather which can cause damp and moisture to seep into your straw and hay; humid weather can also play havoc. When the weather is hot and particularly when it is humid, should there not be a degree of ventilation, you may end up with condensation which can then for droplets, damaging your hay and straw.
Consider the Alternatives
Do you always need to use straw to bed up your animals? Not necessarily.
Other viable sources of bedding for animals include wood shavings, sawdust, sand, or a combination of sand and straw. Some of these alternatives may even be better for your particular farming conditions. In light of the unusually high prices of straw at the moment, you may find that switching to an alternative will present cost-savings.
Importantly, wood shavings and wood chippings are far more moisture resistant that straw and hay. Wood can sometimes also last for longer, meaning you don't need to change the animal's bedding as frequently, saving you yet further money.
Cut out the Middle Man
Where possible, purchase your straw supplies directly from their origin supplier, rather than from the stockists or other potential middle men. This is because every party that handles a particular supply of straw will raise the price to make a profit.
As Emmit Rawls, a professor and extension specialist at the University of Tennessee said: "If I buy hay for $6 a bale, I'm going to want to sell it for $8 and the person I sell it to will want $10. To get the best price, you need to get as close to the person who grew and cut it as possible."
Invest in a Straw Spreader
Effective management of your straw supplies can make them last longer and save you thousands of Pounds. Many farmers currently spread their straw by chopping up bales or feeding them through a processor machine. However, chopped straw is notorious for not lasting very long, as it is easily soaked into animal bedding and gets wet quicker.
Instead, use a straw spreader, which will gently tease apart the bale to spread a light and fluffy bed. This will help you use your straw in the most cost-effective manner, since it spreads straw evenly, and the bedding it creates lasts longer.
It is often asked why one should use a straw spreader, as the costs of purchasing such machinery can be quite a lot. However, even though straw spreaders are indeed fairly costly up-front, they will save you much more than they cost in the long-run. For example, one of Straw Spreader's machines will save you up to 30% of your straw.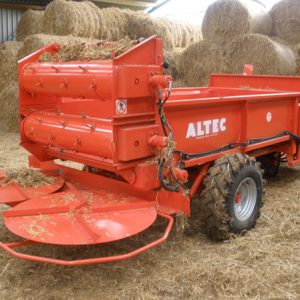 With this information, and since straw trades for around £100 per tonne, with the average farmer using 1,000 bales a year, using a straw spreader could yield cost savings of up to £9,990 at the end of the year. This alone is enough to cover the cost of the spreader. Furthermore, this is only after one year of use. Any further use of the straw spreader can only result in costs-savings – great news for any farmer.